FOR LEASE:
DARCO'S LEGACY SE (CONTENDOR X DARCO)
VERY BRAVE SUPER SCOPEY UPPER LEVEL PROSPECT. PACKER. LOTS OF SHOW EXPERIENCE.
CONTACT RICH FELLERS 503-781-0413
FOR LEASE:
LEONE SE (LIOSTRO/PIKADERO)
LIOSTRO/PIKADERO GELDING.   AMATEUR/KID FRIENDLY JUMPER/EQUITATION HORSE.   SCOPEY AND BRAVE.  CONTACT ROSE SULLIVAN 805-551-6336
FOR SALE:
DARCO X PERSAPOLIS/LIOSTRO IN-UTERO FOAL.  TO BE BORN  July 2016.
( NO LONGER AVAILABLE)
SE Farms is proud to announce for sale a fully insured, LFG, IN-UTERO filly by the legendary Olympic grand prix sire DARCO out of our premium BWP jumper mare, Persapolis (Liostro/Sabotage)  This is expected to be a spectacular foal bred via the ICSI process! Contact Rose Sullivan at rsullivanse@gmail.com for price.
MORE dam pictures:
LFG AND FULLY INSURED. PRIVATE TREATY. EMAIL FOR INFO AND PRICE: rsullivanse@gmail.com
FOR LEASE for 2017: FOR HIS PLEASURE SE (FOR PLEASURE X DARCO)
IN NEGOTIATIONS.
2007 fancy BWP gelding by Grand Prix champion sire, For Pleasure out of an international GP Darco daughter.  Approximately 16hh. This horse has been brought to sport in no hurry, but has tons of potential. Schooling 3.9-3.11 at home currently with ease, started showing this year. Easy going, level headed horse, best suited for a junior rider with experience or adult amateur show home is a must, under professional training. Does trails on his own, and behaves well in all situations.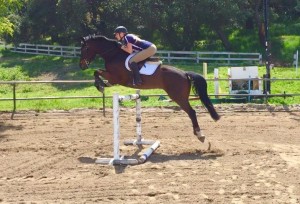 FOR LEASE 2018:
 LEASED. Will be available again November 2017.
2004 FANCY EQUITATION MARE- great show record, lots of experience.
USA SE (Liostro/LargoZ/AlmeZ) Has done dressage, eventing and hunter/jumpers.
Sister to approved stallion Clair de LuneSE.
FOR LEASE
  Showjumping only. LEASED. AVAILABLE JAN 2018.
2007 mare by Cathalido/Calido I/Carthago/Lord out of premium Liostro/Dynamo mare. ZoeySE is a very easy, and brave mare well suited for an amateur rider. Experienced in dressage eventing  and showjumping.
Please call ROSE SULLIVAN for details: 805-551-6336
CURRENT PARTNERSHIPS IN NEGOTIATIONS:
Creme de la Creme SE, 5, (Clair de Lune SE x Liostro/Sabotage)- in negotiations. NO LONGER AVAILABLE.
Morning Glory SE 5,  (Clair de LuneSE x Liostro/Sabotage) available for showjumping or eventing partnership now. IN NEGOTIATIONS. NOT AVAILABLE.
Conquistador SE, 5, (Clair de LuneSE x Liostro/Sabotage) available for SHOWJUMPING  partnership. 
Milagro SE 5,  (Clair de LuneSE x Alme)  IN NEGOTATIONS.
Cloudy de LuneSE 5,  (Clair de LuneSE x Sulphurs Class Act XX) available for eventing or showjumping partnership in the  fall of 2016. Qualified for 2016 YEH finals. PENDING PARTNERSHIP. NO LONGER AVAILABLE.
Darco's Princess SE, 5 (Darco x Alme) available for showjumping partnership September  2016. PENDING PARTNERSHIP, NO LONGER AVAILABLE.
PARTNERSHIPS AVAILABLE FOR 2018:
CALVIN KLEIN SE, 3,  (Clair de LuneSE x Caballo)  VERY scopey freejumper.
NORTHWEST VINTAGE SE, 4 Clair de LuneSE x Stealth S/Sabotage/Liostro) phenomenal mover.
DIAMANTE DE DARCO SE, 4 (DARCO X FOOLISH TEMPTATION XX) Top breeding for this mare!! 
MONA LISA SE-5 (CLAIR DE LUNE SE X SOUTH PACIFIC)